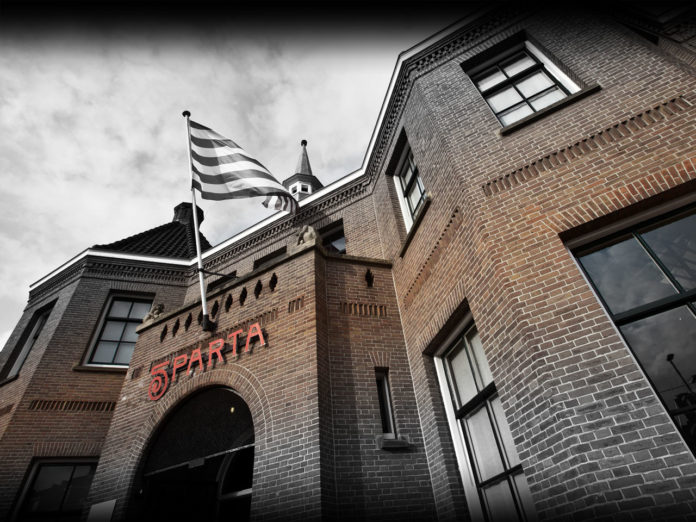 Wat vorig seizoen door een idee van supporter Marcel werd bedacht, hebben we dit seizoen een vervolg gegeven. We vroegen jullie te voorspellen waar Sparta dit seizoen zou eindigen. Meer dan 400 supporters vulden ons formulier in. We willen jullie dan ook kennis laten maken met alle inzendingen en een vergelijk te maken met hetgeen jezelf voorspeld hebt.
Voor ons was opvallend dat het gemiddeld aantal punten dat jullie voorspelden op 39 is uitgekomen. Doen we 't daarvoor Spartanen?
Als we kijken naar wat voor resultaat het aantal punten zal hebben waren jullie het grotendeels eens: 84% denkt aan handhaving zonder promotie/degradatie play-offs te moeten gaan spelen. 9% vreest deze play-offs wel en 4% vreest dat Sparta op plek nr.17 of 18 uit zal komen en direct degradeert. Er zijn ook optimisten onder ons: 3% denkt dat Sparta mee gaat doen om de play-offs voor Europees voetbal en 1% denkt zelfs dat Sparta zich direct voor Europees plaatst of de KNVB beker binnen zal harken. Wie zal het zeggen?
We zullen na elke 8 of 9 wedstrijden een tussenstand gaan publiceren.
Voordat jullie de redactie gaan overspoelen met vragen het volgende: We hebben van de dubbele inzendingen de eerste inzending gewist en de laatste geplaatst. Verder is het niet meer mogelijk om nog inzendingen te doen. Jullie e-mail gegevens worden bewaard tot aan het einde van deze competitie.
Dit waren jullie voorspellingen:
| naam | punten | Eindresultaat |
| --- | --- | --- |
| Aadnielsen | 68 | Handhaving geen Play offs |
| Denis | 65 | Play offs voor EL |
| MVogels95 | 62 | Handhaving geen Play offs |
| frans | 58 | Handhaving geen Play offs |
| Kale | 58 | Handhaving geen Play offs |
| Patrick | 56 | Handhaving geen Play offs |
| Paul Jansen | 55 | Handhaving geen Play offs |
| Aanak | 55 | Play offs voor EL |
| Alexander | 54 | Handhaving geen Play offs |
| Ed | 54 | Handhaving geen Play offs |
| Joris | 54 | Play offs voor EL |
| cvetkov | 52 | Handhaving geen Play offs |
| Jan Marchena | 52 | Handhaving geen Play offs |
| Tonph | 52 | Handhaving geen Play offs |
| cor | 51 | Handhaving geen Play offs |
| rotterdam[west] | 51 | Handhaving geen Play offs |
| Veronica tuunter | 51 | Handhaving geen Play offs |
| Adnan | 51 | Play offs voor EL |
| Hakbijl | 50 | Handhaving geen Play offs |
| Hans Sonneveld | 50 | Handhaving geen Play offs |
| Michael | 50 | Handhaving geen Play offs |
| _Stephan | 49 | Handhaving geen Play offs |
| Vroon | 49 | Handhaving geen Play offs |
| Buffalo Bill | 48 | Handhaving geen Play offs |
| Pias | 48 | Handhaving geen Play offs |
| balletjetrap | 48 | Play offs voor EL |
| RoySchiedam | 47 | Handhaving geen Play offs |
| Bodi | 47 | Play offs voor EL |
| Gijs D | 46 | Handhaving geen Play offs |
| Hans van Toor | 46 | Handhaving geen Play offs |
| JohnK | 46 | Handhaving geen Play offs |
| Mari van Wijk | 46 | Handhaving geen Play offs |
| pbuckie@ | 46 | Handhaving geen Play offs |
| Peter Otte | 46 | Handhaving geen Play offs |
| DJ | 46 | Plaatsing EV of KNVB beker |
| King Bok | 46 | Play offs voor EL |
| Andries G | 46 | Play offs voor KKD |
| Delia | 45 | Handhaving geen Play offs |
| El Nino | 45 | Handhaving geen Play offs |
| gijsenzo | 45 | Handhaving geen Play offs |
| Richard de Boer | 45 | Handhaving geen Play offs |
| roza | 45 | Handhaving geen Play offs |
| Svenadmiraal | 45 | Handhaving geen Play offs |
| Andre | 45 | Play offs voor EL |
| De positiveling | 45 | Play offs voor EL |
| Leon van Voorst | 45 | Play offs voor EL |
| Nico pijpers. | 45 | Play offs voor EL |
| Leidschendam | 45 | Play offs voor KKD |
| appie ossie | 44 | Handhaving geen Play offs |
| Cent Wageveld | 44 | Handhaving geen Play offs |
| DCdB | 44 | Handhaving geen Play offs |
| Emiel | 44 | Handhaving geen Play offs |
| Hans Gebuis | 44 | Handhaving geen Play offs |
| Klaas84 | 44 | Handhaving geen Play offs |
| Lilian | 44 | Handhaving geen Play offs |
| Ruud clarijs | 44 | Handhaving geen Play offs |
| flardinga | 43 | Handhaving geen Play offs |
| Flo | 43 | Handhaving geen Play offs |
| Fred | 43 | Handhaving geen Play offs |
| Friso van der Meulen | 43 | Handhaving geen Play offs |
| henk | 43 | Handhaving geen Play offs |
| Jay | 43 | Handhaving geen Play offs |
| Jos | 43 | Handhaving geen Play offs |
| MAX33 | 43 | Handhaving geen Play offs |
| Thijs Ouwerling | 43 | Handhaving geen Play offs |
| Trebbor | 43 | Handhaving geen Play offs |
| AadSiebel | 42 | Handhaving geen Play offs |
| Afdeling Schiphol | 42 | Handhaving geen Play offs |
| Bram Kaulingfreks | 42 | Handhaving geen Play offs |
| de goeroe | 42 | Handhaving geen Play offs |
| Dwp | 42 | Handhaving geen Play offs |
| Gerben | 42 | Handhaving geen Play offs |
| Gerco | 42 | Handhaving geen Play offs |
| Jan E | 42 | Handhaving geen Play offs |
| Joost Paping | 42 | Handhaving geen Play offs |
| Michaël | 42 | Handhaving geen Play offs |
| Oh maai gos | 42 | Handhaving geen Play offs |
| petergerhard | 42 | Handhaving geen Play offs |
| Roomat | 42 | Handhaving geen Play offs |
| Sparta Nar | 42 | Handhaving geen Play offs |
| Stan de Vroed | 42 | Handhaving geen Play offs |
| TDS | 42 | Handhaving geen Play offs |
| Thommmmm | 42 | Handhaving geen Play offs |
| willem van dijk | 42 | Handhaving geen Play offs |
| Yvonne | 42 | Handhaving geen Play offs |
| Ad interim | 41 | Handhaving geen Play offs |
| Anne Joost | 41 | Handhaving geen Play offs |
| Bas | 41 | Handhaving geen Play offs |
| Danny_T1981 | 41 | Handhaving geen Play offs |
| Derk | 41 | Handhaving geen Play offs |
| droopy | 41 | Handhaving geen Play offs |
| Fokkiebokkiebeeeh | 41 | Handhaving geen Play offs |
| Fosco | 41 | Handhaving geen Play offs |
| Inez | 41 | Handhaving geen Play offs |
| Jaap ITWM | 41 | Handhaving geen Play offs |
| Jack | 41 | Handhaving geen Play offs |
| Jan | 41 | Handhaving geen Play offs |
| Jappie92 | 41 | Handhaving geen Play offs |
| lars cornax | 41 | Handhaving geen Play offs |
| Michel | 41 | Handhaving geen Play offs |
| Michel crans | 41 | Handhaving geen Play offs |
| Morris Livius | 41 | Handhaving geen Play offs |
| Neal Luitwieler | 41 | Handhaving geen Play offs |
| Olivier | 41 | Handhaving geen Play offs |
| Patrick L | 41 | Handhaving geen Play offs |
| Paul | 41 | Handhaving geen Play offs |
| Paul Lasee | 41 | Handhaving geen Play offs |
| Rembrandt Taapken Ruiz | 41 | Handhaving geen Play offs |
| Remi | 41 | Handhaving geen Play offs |
| Rensvstein | 41 | Handhaving geen Play offs |
| Sparta86 | 41 | Handhaving geen Play offs |
| The Show | 41 | Handhaving geen Play offs |
| Volkstuin | 41 | Handhaving geen Play offs |
| Willem P. | 41 | Handhaving geen Play offs |
| Yon | 41 | Handhaving geen Play offs |
| Anton | 40 | Handhaving geen Play offs |
| Bart | 40 | Handhaving geen Play offs |
| Benno | 40 | Handhaving geen Play offs |
| BosselaarTV | 40 | Handhaving geen Play offs |
| Cap | 40 | Handhaving geen Play offs |
| CB54 | 40 | Handhaving geen Play offs |
| Danny | 40 | Handhaving geen Play offs |
| Der Kaiser | 40 | Handhaving geen Play offs |
| Duvelop | 40 | Handhaving geen Play offs |
| Erik | 40 | Handhaving geen Play offs |
| G. Bos | 40 | Handhaving geen Play offs |
| Gerard van Rijk | 40 | Handhaving geen Play offs |
| Gompie – Gary Heale | 40 | Handhaving geen Play offs |
| John | 40 | Handhaving geen Play offs |
| King P88gba | 40 | Handhaving geen Play offs |
| Kouwekibbeling | 40 | Handhaving geen Play offs |
| Martin1986 | 40 | Handhaving geen Play offs |
| Master of Precision | 40 | Handhaving geen Play offs |
| MBM | 40 | Handhaving geen Play offs |
| Mythos | 40 | Handhaving geen Play offs |
| Noureddine | 40 | Handhaving geen Play offs |
| Ouibeau | 40 | Handhaving geen Play offs |
| PKHVH | 40 | Handhaving geen Play offs |
| Punket | 40 | Handhaving geen Play offs |
| Raoul | 40 | Handhaving geen Play offs |
| Ridder te Voet | 40 | Handhaving geen Play offs |
| Ridderaadje | 40 | Handhaving geen Play offs |
| Robert Kiss | 40 | Handhaving geen Play offs |
| Ruben de Bever | 40 | Handhaving geen Play offs |
| Ruben Lentz | 40 | Handhaving geen Play offs |
| Schiedam-Noord | 40 | Handhaving geen Play offs |
| Skeletor | 40 | Handhaving geen Play offs |
| Vak13 | 40 | Handhaving geen Play offs |
| Woody | 40 | Handhaving geen Play offs |
| 16 Horsepower | 39 | Handhaving geen Play offs |
| Andre van der Laan | 39 | Handhaving geen Play offs |
| Ceess | 39 | Handhaving geen Play offs |
| D1888 | 39 | Handhaving geen Play offs |
| De Brouwertjes | 39 | Handhaving geen Play offs |
| Dikker | 39 | Handhaving geen Play offs |
| Erik Jan Kleingeld | 39 | Handhaving geen Play offs |
| erik m te s | 39 | Handhaving geen Play offs |
| Fan | 39 | Handhaving geen Play offs |
| Frank – ITWM | 39 | Handhaving geen Play offs |
| Gerard K | 39 | Handhaving geen Play offs |
| Henk | 39 | Handhaving geen Play offs |
| Hoogendoorn | 39 | Handhaving geen Play offs |
| Jaidy1888 | 39 | Handhaving geen Play offs |
| Jan den Daggelder | 39 | Handhaving geen Play offs |
| Ketelbinkie | 39 | Handhaving geen Play offs |
| Kevin | 39 | Handhaving geen Play offs |
| Klaaf | 39 | Handhaving geen Play offs |
| MarijnV19 | 39 | Handhaving geen Play offs |
| Martin | 39 | Handhaving geen Play offs |
| Michel | 39 | Handhaving geen Play offs |
| Mike+JentevA | 39 | Handhaving geen Play offs |
| Neef Steef | 39 | Handhaving geen Play offs |
| Rick Bos | 39 | Handhaving geen Play offs |
| Robin | 39 | Handhaving geen Play offs |
| Ron51 | 39 | Handhaving geen Play offs |
| ronald dekker | 39 | Handhaving geen Play offs |
| Steef | 39 | Handhaving geen Play offs |
| Thover | 39 | Handhaving geen Play offs |
| Tjerk | 39 | Handhaving geen Play offs |
| Tobias | 39 | Handhaving geen Play offs |
| TvdP | 39 | Handhaving geen Play offs |
| vakkie20 | 39 | Handhaving geen Play offs |
| Vic de Wolff | 39 | Handhaving geen Play offs |
| Boukhario | 39 | Plaatsing EV of KNVB beker |
| Jordi van der Bok | 39 | Play offs voor KKD |
| _Wesley_ | 38 | Handhaving geen Play offs |
| Antoine | 38 | Handhaving geen Play offs |
| Arthur van Aken | 38 | Handhaving geen Play offs |
| Bobokw | 38 | Handhaving geen Play offs |
| Boskov | 38 | Handhaving geen Play offs |
| Brian | 38 | Handhaving geen Play offs |
| Brinta koekjes | 38 | Handhaving geen Play offs |
| Bubberio | 38 | Handhaving geen Play offs |
| Ceessie | 38 | Handhaving geen Play offs |
| ClubvanRdam | 38 | Handhaving geen Play offs |
| DK | 38 | Handhaving geen Play offs |
| Gert Snijders | 38 | Handhaving geen Play offs |
| Greyhound | 38 | Handhaving geen Play offs |
| Hoofdpijn | 38 | Handhaving geen Play offs |
| Horst Tappert | 38 | Handhaving geen Play offs |
| Ian | 38 | Handhaving geen Play offs |
| Jellegaaag | 38 | Handhaving geen Play offs |
| Jim | 38 | Handhaving geen Play offs |
| Joaquin | 38 | Handhaving geen Play offs |
| K.Steel | 38 | Handhaving geen Play offs |
| Karaflax | 38 | Handhaving geen Play offs |
| Maarten Kleijkamp | 38 | Handhaving geen Play offs |
| Mario Benedetti | 38 | Handhaving geen Play offs |
| Maurice Heijboer | 38 | Handhaving geen Play offs |
| Mick Blom | 38 | Handhaving geen Play offs |
| Mortenino | 38 | Handhaving geen Play offs |
| Nick gilijamse | 38 | Handhaving geen Play offs |
| peter tonder | 38 | Handhaving geen Play offs |
| Ron Albers | 38 | Handhaving geen Play offs |
| Ronald te Loo | 38 | Handhaving geen Play offs |
| Samir Benalla | 38 | Handhaving geen Play offs |
| Snarf65 | 38 | Handhaving geen Play offs |
| Spartaan1996 | 38 | Handhaving geen Play offs |
| Stek | 38 | Handhaving geen Play offs |
| SV Sparta | 38 | Handhaving geen Play offs |
| Tetje | 38 | Handhaving geen Play offs |
| Tony | 38 | Handhaving geen Play offs |
| Vincent | 38 | Handhaving geen Play offs |
| Willem | 38 | Handhaving geen Play offs |
| WoutGoud | 38 | Handhaving geen Play offs |
| Xander | 38 | Handhaving geen Play offs |
| Wouter | 38 | Plaatsing EV of KNVB beker |
| Bertje | 37 | Handhaving geen Play offs |
| Big Snippie | 37 | Handhaving geen Play offs |
| Bobsaloon88 | 37 | Handhaving geen Play offs |
| Carel Hoendervoogt | 37 | Handhaving geen Play offs |
| DiStefano | 37 | Handhaving geen Play offs |
| Elroos | 37 | Handhaving geen Play offs |
| Gearry | 37 | Handhaving geen Play offs |
| Ghiel | 37 | Handhaving geen Play offs |
| Glove2000 | 37 | Handhaving geen Play offs |
| Ilekso | 37 | Handhaving geen Play offs |
| Koen | 37 | Handhaving geen Play offs |
| Korbinho | 37 | Handhaving geen Play offs |
| Lechim | 37 | Handhaving geen Play offs |
| Leos | 37 | Handhaving geen Play offs |
| Louis | 37 | Handhaving geen Play offs |
| MCLV | 37 | Handhaving geen Play offs |
| Michel1979 | 37 | Handhaving geen Play offs |
| MitchellT | 37 | Handhaving geen Play offs |
| Napier | 37 | Handhaving geen Play offs |
| Ostschweiz | 37 | Handhaving geen Play offs |
| Patricj van der Gaag | 37 | Handhaving geen Play offs |
| Peter Suyker | 37 | Handhaving geen Play offs |
| Pietje | 37 | Handhaving geen Play offs |
| RuR | 37 | Handhaving geen Play offs |
| S.R.1960 | 37 | Handhaving geen Play offs |
| Samson | 37 | Handhaving geen Play offs |
| Sassem | 37 | Handhaving geen Play offs |
| Sjimmie | 37 | Handhaving geen Play offs |
| Sparta kaatsheuvel | 37 | Handhaving geen Play offs |
| Sparta minion | 37 | Handhaving geen Play offs |
| Spartaan uut Grunn | 37 | Handhaving geen Play offs |
| SpartaDaan | 37 | Handhaving geen Play offs |
| Spartadertje | 37 | Handhaving geen Play offs |
| Spartaopa | 37 | Handhaving geen Play offs |
| Spartayannick | 37 | Handhaving geen Play offs |
| Spharryta | 37 | Handhaving geen Play offs |
| Stenk van Hee | 37 | Handhaving geen Play offs |
| Superboer | 37 | Handhaving geen Play offs |
| Timo | 37 | Handhaving geen Play offs |
| Viktor Kros | 37 | Handhaving geen Play offs |
| Vincent_hoogelander | 37 | Handhaving geen Play offs |
| Ron Essen | 37 | Play offs voor KKD |
| Andre_T | 36 | Handhaving geen Play offs |
| Buitenhof | 36 | Handhaving geen Play offs |
| Cor | 36 | Handhaving geen Play offs |
| Curver 70 | 36 | Handhaving geen Play offs |
| Daniel Hokke | 36 | Handhaving geen Play offs |
| Danny9! | 36 | Handhaving geen Play offs |
| De onbetrokken Spartaan | 36 | Handhaving geen Play offs |
| De Titanic…. | 36 | Handhaving geen Play offs |
| DvO1976 | 36 | Handhaving geen Play offs |
| elbruno | 36 | Handhaving geen Play offs |
| Falanovic | 36 | Handhaving geen Play offs |
| Frits de Rat | 36 | Handhaving geen Play offs |
| Gnivrok | 36 | Handhaving geen Play offs |
| Goossen | 36 | Handhaving geen Play offs |
| Hans Abramsen | 36 | Handhaving geen Play offs |
| Harten7 | 36 | Handhaving geen Play offs |
| jan | 36 | Handhaving geen Play offs |
| Jesse Mourik | 36 | Handhaving geen Play offs |
| Joh van Zoest | 36 | Handhaving geen Play offs |
| Johan | 36 | Handhaving geen Play offs |
| Joost | 36 | Handhaving geen Play offs |
| Joshua Taapken | 36 | Handhaving geen Play offs |
| Jurry | 36 | Handhaving geen Play offs |
| Leendert | 36 | Handhaving geen Play offs |
| Marc | 36 | Handhaving geen Play offs |
| Markus70 | 36 | Handhaving geen Play offs |
| Mitchdep | 36 | Handhaving geen Play offs |
| Molon Lawe | 36 | Handhaving geen Play offs |
| normaaldoenheeee | 36 | Handhaving geen Play offs |
| NUFC | 36 | Handhaving geen Play offs |
| Pieter Slagboom | 36 | Handhaving geen Play offs |
| RD1888 | 36 | Handhaving geen Play offs |
| Rene Boezaard | 36 | Handhaving geen Play offs |
| Sander | 36 | Handhaving geen Play offs |
| Sani keita | 36 | Handhaving geen Play offs |
| SpartaJordy | 36 | Handhaving geen Play offs |
| SpartaSmurf | 36 | Handhaving geen Play offs |
| Stef | 36 | Handhaving geen Play offs |
| Wilfred Sparnaay | 36 | Handhaving geen Play offs |
| sveri69 | 36 | Play offs voor KKD |
| amri | 35 | Handhaving geen Play offs |
| ArubaRick | 35 | Handhaving geen Play offs |
| Brokkenpiloot | 35 | Handhaving geen Play offs |
| De meestervoorspeller | 35 | Handhaving geen Play offs |
| E. Bouman | 35 | Handhaving geen Play offs |
| El Salvador | 35 | Handhaving geen Play offs |
| JBStraathof | 35 | Handhaving geen Play offs |
| Jeffrey van As | 35 | Handhaving geen Play offs |
| Jeroendeeg | 35 | Handhaving geen Play offs |
| Lars Bieze | 35 | Handhaving geen Play offs |
| Marco_V22 | 35 | Handhaving geen Play offs |
| Marco1989 | 35 | Handhaving geen Play offs |
| MarcoG | 35 | Handhaving geen Play offs |
| Mascha | 35 | Handhaving geen Play offs |
| P. van Rosmalen | 35 | Handhaving geen Play offs |
| Rikkert | 35 | Handhaving geen Play offs |
| Rob1973 | 35 | Handhaving geen Play offs |
| Roelof1888 | 35 | Handhaving geen Play offs |
| rvc-1888 | 35 | Handhaving geen Play offs |
| Sartaan '59 | 35 | Handhaving geen Play offs |
| Schuurmanski | 35 | Handhaving geen Play offs |
| Spart_aan | 35 | Handhaving geen Play offs |
| Thestik | 35 | Handhaving geen Play offs |
| Vosco | 35 | Handhaving geen Play offs |
| Wolf | 35 | Handhaving geen Play offs |
| De Brandweer | 35 | Play offs voor KKD |
| Marcel Vak 12 | 35 | Play offs voor KKD |
| Spartaheld | 35 | Play offs voor KKD |
| Wilfredppsc | 35 | Play offs voor KKD |
| will | 35 | Play offs voor KKD |
| de rots | 34 | Handhaving geen Play offs |
| Dirk vH | 34 | Handhaving geen Play offs |
| Floris | 34 | Handhaving geen Play offs |
| Fonz | 34 | Handhaving geen Play offs |
| Houten Klaas | 34 | Handhaving geen Play offs |
| Jeroenwntr | 34 | Handhaving geen Play offs |
| JKsparta20 | 34 | Handhaving geen Play offs |
| Liefhebber | 34 | Handhaving geen Play offs |
| Michael | 34 | Handhaving geen Play offs |
| Ouderkerk | 34 | Handhaving geen Play offs |
| RZB | 34 | Handhaving geen Play offs |
| spartaan1888 | 34 | Handhaving geen Play offs |
| Startrek | 34 | Handhaving geen Play offs |
| Troy | 34 | Handhaving geen Play offs |
| Victor Bloemhoff | 34 | Handhaving geen Play offs |
| Wvb87 | 34 | Handhaving geen Play offs |
| Allez OM | 34 | Play offs voor KKD |
| Gert van der beek | 34 | Play offs voor KKD |
| Harte de Korver | 34 | Play offs voor KKD |
| McMichel | 34 | Play offs voor KKD |
| Mike van Z | 34 | Play offs voor KKD |
| Jeffrey gs | 33 | Handhaving geen Play offs |
| Jelle | 33 | Handhaving geen Play offs |
| PPP | 33 | Handhaving geen Play offs |
| Robin Rauhé | 33 | Handhaving geen Play offs |
| Wessel | 33 | Handhaving geen Play offs |
| Candysroom | 33 | Play offs voor KKD |
| Fonzy | 33 | Play offs voor KKD |
| Jack m | 33 | Play offs voor KKD |
| koetjesreep | 33 | Play offs voor KKD |
| Wiecher Groot | 32 | Directe degradatie |
| Bradje | 32 | Handhaving geen Play offs |
| Dries | 32 | Handhaving geen Play offs |
| Kevie | 32 | Handhaving geen Play offs |
| plofkop | 32 | Handhaving geen Play offs |
| Suvarius | 32 | Handhaving geen Play offs |
| Bart | 32 | Play offs voor KKD |
| Gerrit van Boven | 32 | Play offs voor KKD |
| Maurice Dister | 32 | Play offs voor KKD |
| Thomas | 32 | Play offs voor KKD |
| Annemiek Schramade | 31 | Directe degradatie |
| Capelle1888*1 | 31 | Directe degradatie |
| Robert | 31 | Directe degradatie |
| Hemmie | 31 | Play offs voor KKD |
| John | 31 | Play offs voor KKD |
| Kreek | 31 | Play offs voor KKD |
| Sr1888forlife | 31 | Play offs voor KKD |
| BramInHetKasteel | 30 | Directe degradatie |
| Rene | 30 | Directe degradatie |
| Leo Eenoog | 30 | Handhaving geen Play offs |
| aad | 30 | Play offs voor KKD |
| Poeki | 30 | Play offs voor KKD |
| Dennis&Gerard | 29 | Directe degradatie |
| Don | 29 | Directe degradatie |
| JimD | 29 | Directe degradatie |
| Erik alias Huug de Groot | 29 | Play offs voor KKD |
| Henk | 29 | Play offs voor KKD |
| Job matthijsse | 29 | Play offs voor KKD |
| Uke-Buku | 29 | Play offs voor KKD |
| Vincent | 29 | Play offs voor KKD |
| Von S. | 28 | Directe degradatie |
| Robert VErmeulen | 27 | Directe degradatie |
| RWGladiator | 27 | Directe degradatie |
| Thijs-Auke Roos | 26 | Play offs voor KKD |
| rob vermeulen | 25 | Directe degradatie |
| Spartanglory | 25 | Directe degradatie |
| roger | 23 | Directe degradatie |
| Timothy Ambachtsheer | 23 | Directe degradatie |
| ed | 15 | Directe degradatie |
| Richard landman | 10 | Directe degradatie |